Welcome to The Official Nuclear Throne Wiki
| | |
| --- | --- |
| | Nuclear Throne is an action roguelike-like by Vlambeer about mutants fighting their way through a post-apocalyptic world that's full of enemies. The radioactive waste allows mutants to improve their abilities by mutating new limbs on the fly. The abundant availability of powerful weaponry makes the quest to become ruler of the Wasteland one fraught with peril. |
Nuclear Throne exited Steam Early Access on December 5th, 2015, although it will still be updated. It's currently available on PC, Mac & Linux, PlayStation 4, and PlayStation Vita. It will later launch on PlayStation 3 and Xbox One. Purchase the game for PC on Steam and the Game's Website. Also visit the Steam forums, subreddit and FanFiction. Get the Nuclear Throne OST!
If you would like to try the game before you buy it then download Wasteland Kings, the Nuclear Throne Prototype! This is the first build created during Mojam back in March 2013, which can help you decide whether or not this game is for you.
Remember: Everybody can edit this wiki, feel free to do so! Create an account! Contact an Admin via their Message Wall or Steam. Have fun playing, and please don't hesitate to ask questions or add new content here on the wiki!

Latest update: Update #99 - Update 99 - November 6th, 2017
Visit our Update History page on the wiki or the full announcement on the Steam Community page to see a complete list of all the changes.
01:14

Nuclear Throne - PAX East Trailer

01:01

Nuclear Throne - Gameplay Trailer

01:19

Nuclear Throne - Launch Trailer
| | | | | | |
| --- | --- | --- | --- | --- | --- |
| director | producer | art and character design | music | sound design | promotional art |
| | | | | | |
| | | | | | |
It's Out!
Which character is your favorite ?
Join the Chat>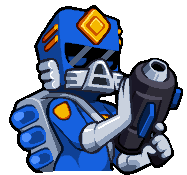 Ad blocker interference detected!
Wikia is a free-to-use site that makes money from advertising. We have a modified experience for viewers using ad blockers

Wikia is not accessible if you've made further modifications. Remove the custom ad blocker rule(s) and the page will load as expected.